Main Content Starts Here, tab to start navigating
Cultivator Shoals | Craft Cocktail Bar in New Bedford, MA
Slide 1 of 9
Slide 2 of 9
Slide 3 of 9
Slide 4 of 9
Slide 5 of 9
Slide 6 of 9
Slide 7 of 9
Slide 8 of 9
Slide 9 of 9
Events
MONDAY-FRIDAY
Happy Hour 5-7pm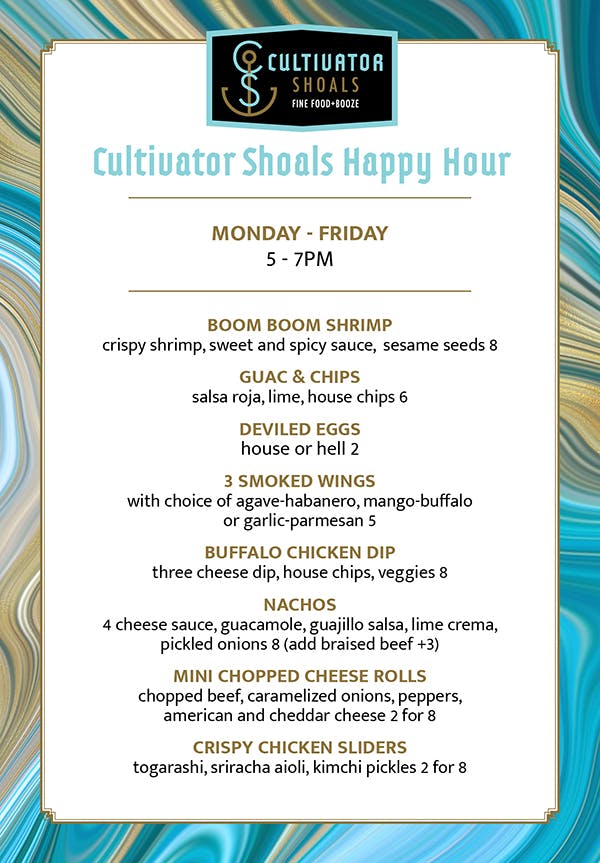 About Us
Cultivator Shoals is a neighborhood watering hole where classic cocktails and delicious bar food are served in a historical setting. Cultivator Shoals is also a rich fishing area on Georges Bank, frequented by the world-famous New Bedford Fishermen.
The original Cultivator Shoals bar was established in 1929 where Rose Alley is now. This Cultivator Shoals was a rowdy fishermen's bar and a place where fishermen and sailors could drink all night and then sleep in the basement before going out to sea. This location was also a rum running destination, with a tunnel to the harbor.
We tip our hat to Howie Mallowes & Jay Lanagan who had the vision to remake Cultivator Shoals as an artisan cocktail bar and relocate to the Benjamin Taber Double House; a place that Melville lived in off and on.
Our drinks are classic, with modern twists, all hand-made to order, following time-honored techniques. Our beers are a rotating selection of local and regional craft brewers, our wine list is a highly curated selection of new and old-world bottles. Our food is chef made and from scratch, we serve bar food with a twist. Our super friendly team is some of the best bartenders and chefs in the area. At Cult you will have a great cocktail, good conversation and delicious sustenance.
Work With Us
We'd love to have you join our team! Please use the form below to apply. We are always accepting applications for the bar, kitchen, and lounge.
Contact Us
Send us a message and we'll get back to you ASAP. Looking forward to hearing from you!
Gift Cards
THREE WAYS TO BUY A GIFT CARD
CALL (508) 492-2858 to place your order and we will bring it to your car.
ORDER ONLINE and we will mail it to you.
ORDER ONLINE and we will send you an electronic gift card.
Click below to purchase a gift card or check your balance.